Head:

doc. Ing. Tomáš MIČUNEK, Ph.D.

Deputy Head:

Ing. Michal FRYDRÝN, Ph.D.
Characteristic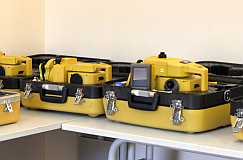 The Laboratory of Measuring Methods in Transportation falls under the Department of Forensic Experts in Transportation. The laboratory is designed to support students' projects within the project oriented education in Bachelor's and Master's degree programmes. In particular, it is focused on topics of transportation safety and those topics that can be used within the expert practices of the department.
The laboratory acquires instrumentation for the department, which allows better maintenance, greater efficiency and usability of individual devices during scientific research by the department staff, doctoral students as well as students of other programmes. It provides training for research workers in controlling the equipment and it also helps with the proper evaluation of the measured values and the correct interpretation of results.
Specialization:
high-speed capturing of physical phenomena
accelerometer, strain gauge and dynamometer measurements
geodetic surveying
3D scanning of spatial objects
mathematical simulation of driving conditions (PC-Crash, VirtualCrash)