Head:

Ing. Milan SLIACKY, Ph.D.

Workers at FTS:

Ing. Patrik HORAŽĎOVSKÝ, Ph.D.
Ing. Mgr. Michal JEŘÁBEK, Ph.D.
Michal KOVALJOV
Ing. Martin LANGR, Ph.D.

Characteristic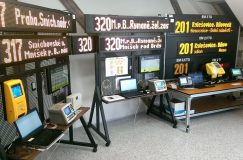 Laboratory of transport ticketing and information systems has been developed within the R&D project co-funded by Technology Agency of the CR (project No. TA02030435). In this project our faculty collaborated with one research institute and four commercial subjects – manufacturers of fare collection devices and subsystems in the Czech Republic.
Lab is operated by the Department of transport telematics (K620). It consists of 3 basic workplaces: Contactless Chipcard Workplace, Vehicle Devices Workplace and Transport Ticketing Backoffice. First-mentioned workplace allows creating a personalized medium for electronic ticketing of passengers. Vehicle Devices Workplace offers the platform for testing the transport ticketing devices and also information systems placed in the public transport vehicle. Backoffice (of an operator or organizer) comprises of key transport ticketing subsystems such as clearing or dispatch centre etc.
This unique lab concept enables to simulate and verify selected processes from real transport ticketing system without risk of service disruption, very effectively, because all tests can be realized in one room and repeatable because of testing under laboratory conditions. It also allows a simulation under specific conditions.
The lab offers wide range of services including technical competence verification of tested HW, verification of specified functions of transport ticketing devices (so-called functional tests), testing the selected interfaces and verification of data format on the selected transport ticketing connections. For this purpose the lab is equipped with tools specially developed within the project.
In present time the Lab is looking for partners and customers from manufacturers, public transport operators and transport organizers in order to cooperation in the area of compatibility and interoperability testing of transport ticketing and information systems.