Characteristic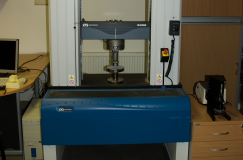 The Laboratory of Experimental Mechanics, established by the Department of Mechanics and Materials, provides practical teaching of basic and advanced courses on materials and experimental mechanics and also provides a technical base for scientific research in the department. The laboratory is equipped with a preparation room for samples, experimental assemblies for quasi-static and dynamic testing of materials and components, surface hardness measurements and testing in chemically aggressive environments.
A testing device Instron 3382 with a maximum permissible load of 100 kN is available for quasi-static uniaxial and bending tests. The evaluation of deformation of samples during load tests in the laboratory is done by means of contact extensometers, strain gauges and optical system (camcorder, camera, lenses, lighting, etc.). The deformation of sampled structures is recorded for subsequent evaluation by digital image correlation.
The laboratory is also equipped with a drop weight tester to test the reaction of material structures that are subject to low and medium impact energy. The assembly of the drop tester comprises of a triaxial accelerometer for measuring the acceleration upon impact and an impact dynamometer for measuring the reaction force. A dummy head is available for testing of protective helmets with the possibility of mounting accelerometers on them.
For testing in the field of dynamic processes the laboratory is equipped with the Split-Hopkinson pressure bar which is used mainly during pressure tests of materials in very high speed deformations. The laboratory equipment also includes high-power LEDs for capturing experiments with high-speed cameras.
In addition, the laboratory is equipped with a durometer for measuring the samples' hardness according to Vickers, Rockwell and Brinell scales and an instrumented microindenter for indentation forces of 5 to 50 N.
Other equipment of the laboratory includes a Charpy hammer for measuring the fracture toughness, modular dynamic strain gauge device, optical microscope, accurate laboratory scales, etc. It is also possible to prepare samples intended primarily for optical and electron microscopy and perform hardness measurements, including the nanoindentation tests.