Head:

doc. Ing. Martin LESO, Ph.D.

Workers at FTS:

Ing. Bc. Dušan KAMENICKÝ, Ph.D.
Ing. Petr KOUTECKÝ, Ph.D.

Characteristic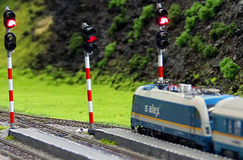 The Transportation Hall of the FTS CTU in Prague is a laboratory intended for practical research in the field of railway signalling technology and railway transport control. The laboratory falls under the Department of Transport Telematics.
The prominent features of the laboratory include model rails which allow simulating real life infrastructure. Newly developed systems for control and safety of railway transport are tested by means of simulations within the research. This makes it possible to create designs for improving the quality parameters of railway transport, namely from the perspective of safety and reliability.
In addition, the Transportation Hall has become a significant tool in the education of the students. It allows them to practice the technology of railway transport control without any real consequences. Practical training in the hall serves to supplement the theoretical knowledge of students. They can try out controlling individual devices that serve to secure railway infrastructure.
The Transportation Hall is also a part of the project oriented education at the Faculty of Transportation Sciences. Students are selected to become a part of a team working on the further development of the hall. They become specialized in individual branches of safety technology, which improves their chances of finding employment in the future.
Another important activity of the Transportation Hall is the organization of excursions. This promotes the railway transport system amongst the general public and encourages interest in it.