Head:

prof. Ing. Ondřej PŘIBYL, Ph.D.

Workers at FTS:

Ing. Michal MATOWICKI, Ph.D.
doc. Ing. Tomáš HORÁK, Ph.D.
doc. Ing. Ivan NAGY, CSc.
Dr. Ing. Jan PŘIKRYL
Ing. Bohumil KOVÁŘ, Ph.D.
Ing. Alena RYBIČKOVÁ, Ph.D.
Ing. Pavla PECHERKOVÁ, Ph.D.
Ing. Michaela SUŠICKÁ

Characteristic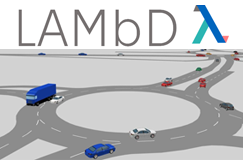 We believe that all the practical tasks in Transportation Sciences, at certain point demand application of a mathematical tool. However, it is often done without a deep principal understanding, where mathematical tools are applied on a "black box" principle.. Most of the tools allows that. Nevertheless, the results must match this. Very often inappropriate tool is applied, data are not pre-processed enough, tools are used on default settings and results are not properly interpreted.
At the same time, the experience gained from a particular project is not shared with others and is not continuously developed. The main goal of the LAMbDA laboratory was to create a competence center that will build a long-term knowledge in the field of mathematical modelling and the application of mathematical tools for transport and logistics tasks.
The goal is substitutability, where the right solution is not tied to a specific person. The laboratory will connect the experience of teachers with the commitment of students.
In the name of LAMbDA laboratory,